I am a bit late to this particular party. Pimento cheese was all the rage in the 70s but I just got around to it last week. They say better late than never and that was the case with this.
Quick and easy Pimento cheese is sure to impress.
It's a forgiving recipe and also flexible. I've seen versions with a block of cream cheese added . . . Worcestershire sauce . . . bits of leafy green herbs. The possibilities are endless.
The possibilities for what you do with it are endless as well. Traditionally served as a spread for crackers we discovered that it is delicious as a dip for chips. I'm going to try it as a schmear for a toasted bagel. I also think it would be amazing as a sandwich spread – ham and pimento cheese sandwich anyone?
Another bonus – it is quick to make and doesn't dirty up half of the tools in your kitchen.
Flavour, flexibility, quick, and impressive. It's a winner. If you are also late to the party don't despair – get some pimento peppers and cheese and start blitzing it up.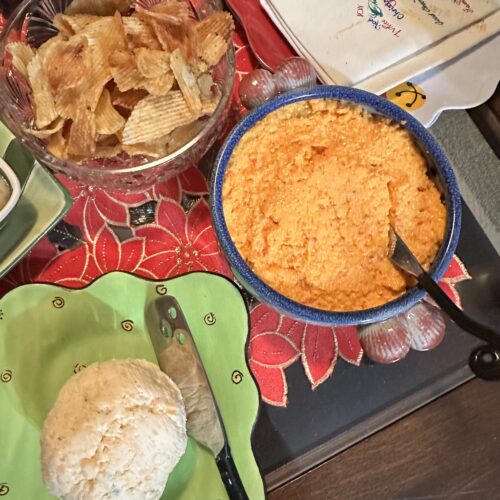 Pimento Cheese
Pimento cheese is a tangy and creamy cheese spread that's often referred to as the pâté of the South. It's wonderful on chips, crackers, crudités, sandwiches, or even burgers.
Ingredients
1/3

cup

packed, chopped pimento peppers

If you can't find pimentos regular roasted red peppers wold work.

8

ounces

extra old cheddar

2

ounces

old cheddar

6

tbsp

mayonnaise

1/4

tsp

salt

¼

tsp

cayenne pepper
Instructions
Drain the pimento peppers in a strainer. Gently press the drained pimentos on paper towels to absorb excess moisture.

Grate the cheddar cheese.

Combine the pimento peppers and cheese in the bowl of a food processor. Pulse a few times to begin chopping them.

Add the mayonnaise, sat and cayenne pepper. Process until the mixture has the texture of fine curd cottage cheese. Scrape the bowl of the food processor as needed. NOTE: you can process further until you have the consistency you like.

Scrape into a bowl. Refrigerate for at least 4 hours before serving.