I mentioned in an earlier post about my love for roast pork and apples when the mercury drops.
Sorry to anyone over the age of 30 confused by that last comment. It's a metaphor for 'cold'.
In addition to a response to cold weather, this recipe was added to our weekly menu because I had a pork loin roast in the freezer that needed using and I found three bottles of fennel pollen in the cupboard and thought it would be a great addition. My cooking inspiration for the next six months is bound to be 'what do I need to get rid of' as we empty freezers and cupboards.
The final product was amazing – the rub was perfect for the pork and the caramelized onions and apples served alongside was a wonderful addition.
Enjoy!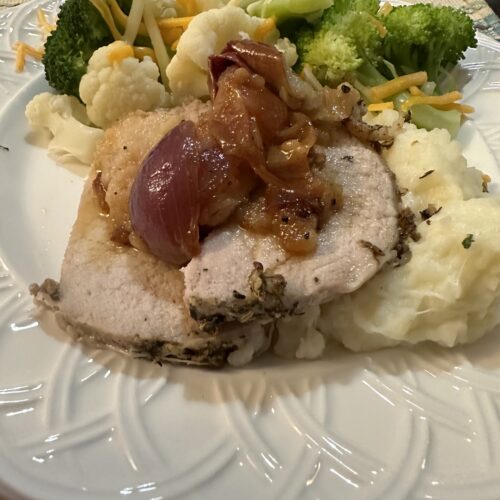 Roasted Pork Loin with Apples and Onions
This roast pork loin with apples and onions boasts a rustic loveliness from a garlic, thyme, and fennel seed rub and a caramelized sweetness from the side that's roasted at the same time
Ingredients
1 1/2

pounds

boneless pork loin

2

medium

red onions

3

red cooking apples, Ida Red, Rome or Pink Lady work well

3

tbsp

extra virgin olive oil, divided

1

tsp

kosher salt, divided

1/2

tsp

freshly ground black pepper, divided

2

cloves

cloves of garlic, minced

1

tbsp

fresh thyme leaves

2

tsp

fennel seeds, crushed

1/2

tsp

fennel pollen
Instructions
Preheat the oven to 400°F (204°C). Adjust the oven rack to the middle position. Take the pork out of the refrigerator and let it rest on the counter while the oven heats.

Cut each onion into quarters. Cut each apple in half from top to bottom. Using a teaspoon-size measuring spoon, a melon baller, or a paring knife, trim the apple core and stem. Place each apple half, cut side down, on the cutting board and cut it in half again.

Place the onions and apples on a rimmed baking sheet lined with foil. Drizzle the onions and apples with 2 tablespoons oil and sprinkle with 1/2 teaspoon salt and 1/4 teaspoon pepper (about 12 turns if you're using freshly cracked pepper from a pepper mill). Toss everything together with your hands and spread in a single layer.

Pat the pork dry. Place it, fat side up, in the middle of the baking sheet, pushing the apples and onions aside. Rub the entire pork loin with the garlic mixture.

Roast everything until an instant-read thermometer inserted in the center of the pork loin reads 145°F (63°C), 45 to 60 minutes. (You'll probably want to start checking the pork loin after 30 minutes, just to be safe.)

Transfer the roast pork loin to a cutting board and let it rest for 5 minutes before slicing. Serve it along with the roasted apples and onions.