My mother's father, my grandpa Turney, was one of those people best described as a character.
He led a long and colourful life, dying just after his 100th birthday.
Born in England in the late 1880s, his family emigrated to Canada.
Before he left England he was almost killed by Queen Victoria's carriage when he ran alongside it as it made its way through the streets of Dover. He was brought into the carriage and placed in the lap of one of her Ladies-in-waiting to comfort him after his near miss.
Once in Canada the family gradually made their way to northern Ontario. Real northern Ontario, not what people from Toronto consider northern Ontario. Back then the region was known as 'New Ontario'. At least that was on the address of the letters he sent home to his mother.
He had a limited education. Pretty typical for frontier boys at the time. I think grade 5 was as far as he got in school. Yet he was a reader and he enjoyed writing.
So many of his skills were self taught or gleaned from those he worked with.
Upon leaving school Grandpa took whatever jobs he could and gave his wages to his mother to help support the family. He didn't talk about his father much. Years later I learned that his father severely beat him when he was 15 because he thought Grandpa wasn't giving all of his money to support the family. Grandpa told his dad that he would regret it if he ever struck him again and left home. He never returned while his father was alive.
The next 30 years were a great adventure.
Living on the frontier and with no family to hold him down he lived hard. He drank heavily. Gambled. Caroused. Later in life he was almost pious. Presumable he was recovering from this great adventure for the next 6 decades.
He served as a guide for people from the south who wanted a 'northern experience'. He met Tom Thomson and members of the Group of Seven that way. When he died he still had a pair of scissors that Thomson had traded him for a week of guiding the painter through the wilderness.
He was involved in the opening of the first great gold mines. He had a story he told about the Great Porcupine gold strik90e.
He signed up for the Great War and served as a sapper on the front. His job was to keep the rail lines open ensuring that supplies were brought to the front lines and injured soldiers could be brought out. The lines were lengthened or shortened depending upon advances or retreats.
He had fascinating stories about his war experiences. Present for the first use of mustard gas by the Germans his lungs remained weak for the rest of his life.
Back home he was transient. He went where he could find work. Sometimes I think he moved around so much because he had to leave town because of his behaviour. There are hints of interesting escapades in the letters he sent home to his family.
At one point when he was in Niagara he met the woman who would become my grandmother. She was working as a teacher. Her family was a very respectable Methodist family. So respectable that many of the men were Ministers. They didn't drink. They didn't dance. Respectable.
Talk about opposites.
My grandmother wasn't interested. Over time he won her over but not before leaving his wild side behind him. This was followed by an 8 year engagement until he had a job where he could support his family.
His stories after he was married were less memorable. He became respectable. Worked. Built the house his family lived in. Had a beautiful garden – so beautiful that people would ask to take their wedding photos there. He grew most of the fruits and vegetables that his family ate.
Still there was a hint of the character from older days. He took his three girls to the organizing picnics put on by the CCF at an area farm. The CCF was the precursor of Canada's leftist NDP party. His politics were very left leaning which is likely why whenever he brought it up my grandmother deftly changed the topic. She made sure that there was a Conservative election sign on their lawn for every election campaign.
Grandpa was a great cake decorator – no birthday passed without a cake baked by my grandmother but decorated by my grandfather. They were works of art.
I spent a lot of time with my grandfather. Looking back it appears that my mother's time away from her students also meant time away from my sister and I. Most of these vacations were in Beamsville with my grandparents. This is where I learned how to can and preserve. Likely where I picked up some gardening skills.
Grandpa used to take us hiking on the early stretches of the Bruce Trail and talked to us about the land. He was concerned about the surge of development that followed the 'new' highway (the QEW) through the Niagara Region. He spoke about the need to preserve farmland before anyone else was talking about it.
He told great stories. Some were a bit scandalous – like how he and his brothers couldn't afford tobacco so they dried the leaves of wild hemp and smoked that. They used to get woozy in the head and often fell down but it was great fun. My mother didn't appreciate it when we went home and told her about grandpa's experiences smoking pot as a boy.
He had a story from the war years about how he helped capture a German soy while on leave in Paris. Somewhere in mom's safety deposit box is a gold coin he was given for his effort.
So many stories.
Yesterday when I was cleaning out the den in preparation of our move I found this CD: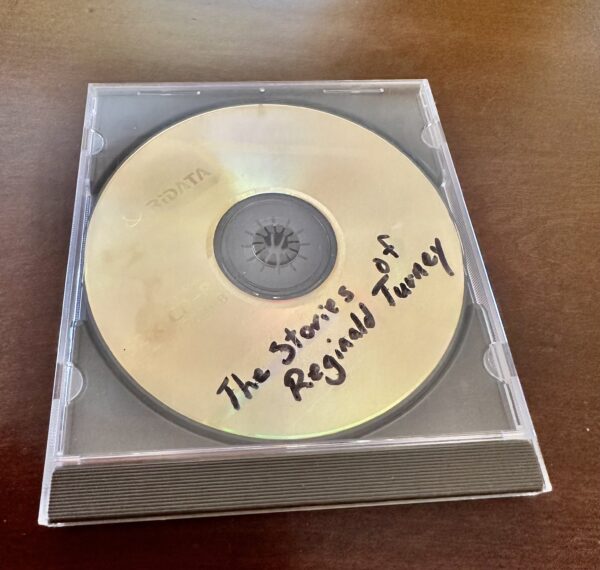 Before my grandfather died my mother borrowed a cassette recorder from school and recorded my grandfather telling his stories. Years later my cousin digitized the stories. When my mother gave me this CD I bet I sort of shrugged my shoulders and put it aside. I had never listened to it. At that point life was more about living for today than stories from the past.
Yesterday I hooked up a CD drive to my lap top. Put the disk in and was transported back to my childhood . . . sitting on the ground under the willow tree while my grandfather told stories.
This is why I am glad that I am moving at this point in my life. If I went through the culling process years ago I know much of the family history would have been tossed aside. Things that didn't matter in the long run would have been kept. At 58 my perspective has changed. I have a greater appreciation for family history and those wonderful stories my grandfather told.