When it came to meal preparations this week two things collided – the need to try and use up food we have in the pantry and freezer because our move to BC is in sight and the need to use up items in the refrigerator before our trip to Amsterdam next Friday. I asked Paul what he wanted for dinner and he said 'pasta'. That left things fairly open.
We had the ingredients for Cesar salad in the fridge. I had manicotti shells in the pantry. There was a container of marinara sauce in the freezer (actually, there were many containers given how prolific the tomatoes were last summer). I had some frozen cooked rotisserie chicken. I had everything to make cheesy chicken manicotti except for the ricotta.
We have made a few variations of this dish – plain cheese, cheese and spinach, sausage and spinach, cheese and tomato and this version with chicken. They are all relatively easy to prepare and come together in about an hour. The end result is a delicious plate of comfort food!
A few pointers – if you don't have your own marinara sauce or want to make your own, a bottle of jarred sauce will work fine. While the pasta is cooking make the filling so it is ready to go when the pasta is cooked. You want your pasta on the 'hard' side of al dente – if it is too soft it will be difficult to fill – don't worry that it will be on the heavily chewy side because it will absorb moisture from the filling and the sauce as it cooks. The best way to fill your cooked pasta shells is to dump the filling in a large ZipLock bag, snip a bit off of a corner and use it as a piping bag.
Enjoy!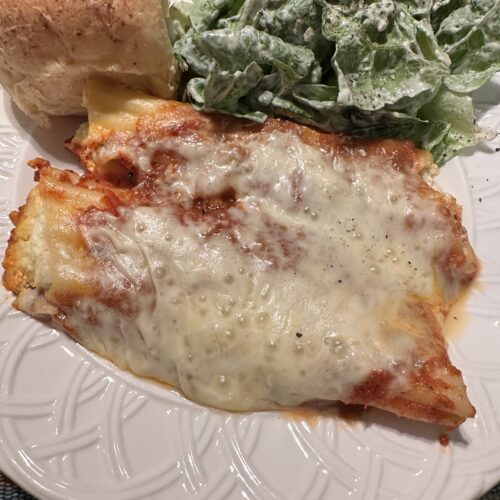 Chicken Manicotti
Manicotti shells stuffed with a cheesy chicken mixture, and topped with marinara.
Ingredients
14

manicotti shells

cooked according to package directiosn

2

cups

ricotta cheese

1

cup

shredded parmigiano cheese

1

cup

cooked chicken, finely diced

2

eggs

2

tsp

oregano

2

cups

marinara sauce

1

cup

shredded Italian cheese blend
Instructions
Preheat the oven to 350 degrees.

In a medium bowl combined shredded chicken, Ricotta cheese, Parmesan cheese, eggs and oregano. Stir until well combined.

Spread 1 cup marinara sauce in the bottom of a 10×13 baking dish.

Stuff each Manicotti with approximately ¼ cup chicken mixture and place in the baking pan. Continue rolling manicotti until all filled and in the pan.

Pour remaining marinara sauce over top.

Cover with foil and place in preheated 350 degree oven.

After 30 minutes remove the pan from the oven. Remove the foil. Sprinkle the shredded cheese on top of the manicotti. Put the uncovered pan back in the oven for 5-10 minutes until the cheese is melted and bubbly.

Let sit for 5 minutes before serving.