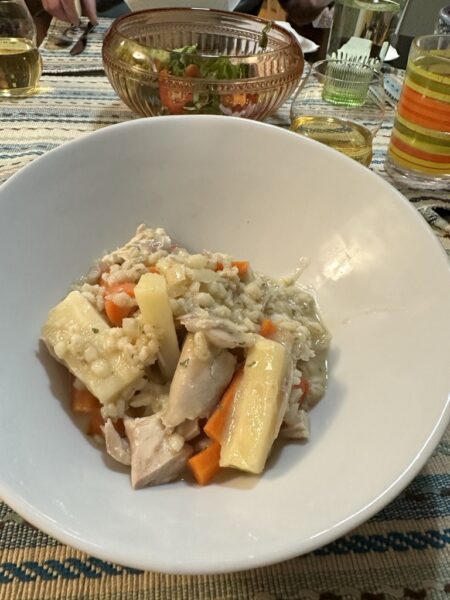 Print Recipe
Back in the fall a friend of mine on Facebook posted this recipe and comment on how good it was. Amy is the type of person who enjoys good food so if she says something is worthy you make note of it. In fairness, I was also intrigued because of the barley. I know, I'm a weird one but I LOVE barley.
No need to psychoanalyze that as this point in life. Barley is super yummy and this recipe features it so I had to try it.
The recipe itself is by Nigella Lawson. I know she is a famous cook but this may be the first recipe of hers that I have made. It's a bit like a Jamie Oliver recipe – casual cooking but at least she uses exact measurements and doesn't call for a knob of butter or a glug of olive oil.
The recipe calls for 6 skinless, bone in chicken breasts. Since we're trying to empty out the freezers in advance of our move we went with what we had – a full chicken. This meant we'd need to butcher it into serving size pieces. It was Paul's turn to cook so I sent him some helpful YouTube videos showing how to break the chicken down. He got squeamish and lay down.
I did the butchering and skinning.
We also had a crisis – a leek I KNOW was in the refrigerator had escaped. We had received two in our CSA delivery. I used exactly one meaning one should have still been in the fridge. The damn thing had probably escaped for warmer climes and was enjoying some quality time in Florida. I didn't feel like heading out to the shop so we subbed a large onion chopped. We decided to saute (hmmm – how do I get accents on this lap top . . . .) it first since the leek would have a more mild, less assertive taste.
Other than that we followed the recipe as written (well, without the Nigella cuteness which grated like fingernails on a chalkboard).
This was good, indeed! The finished result was a bowl of utter comfort – let's be honest – we all need that right now.
Enjoy.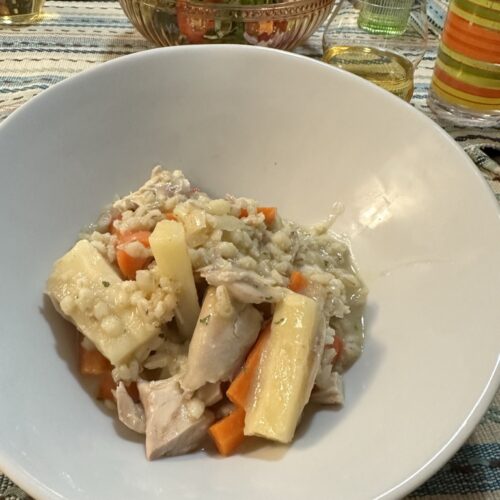 Chicken Barley
This dish doesn't have an easy term. Is it a stew? Is it a type of risotto? Is it a thick soup? Perhaps the term isn't important – what is critical to know is this is a dish of comfort that will banish the dark, cold days of winter.
Ingredients
10

oz

leeks

trimmed and sliced

10

oz

carrots

peeled and cut into chunky batons

10

oz

parsnips

peeled and cut into chunky baton

1

cup

pearl barley

6

chicken thighs

bone in, skin off

6

cups

chicken broth

4

tsp

English mustard

(I used Dijon)

1

bunch

Italian parsley

(leaves from a small bunch chopped)
Instructions
Put the prepared vegetables into a heavy-based casserole that comes with a lid. Add the barley and chicken thighs.

Stir in the mustard into the stock, then pour this over the contents of the pan. Bring to the boil. Turn down the heat, partially cover and let simmer for 1 hour. Stir every 15 minutes or so and ensure it isn't boiling too hard or not enough – you want a slow, steady simmer. If it looks as if it's boiling dry, then pour in a little boiling water.

Once the hour is up, the barley, vegetables and chicken should be tender and the juices all but absorbed. Remove from the heat and let stand with the lid off for 10 minutes.

Add in some of the chopped parsley and stir it through the stew, use the rest as a garnish.
Notes
If you have leftovers the barley will continue to absorb the liquid. Add some more chicken broth before reheating.