After meeting with Jennifer last week I set upon working on my long list of pre-listing tasks.
A new dishwasher and refrigerator will be arriving in early February and installed. I ordered online using Jennfier's corporate discount and saved about $800. Oddly, even though we won't be using these appliances for very long at all, I still felt the need to go to the brick and mortar store to look at them in person.
I do hope that the new owners like them.
I also got working on the kitchen cupboards. Some of which hadn't been cleaned since we moved in 20 years ago. In the process I found all sorts of things I never knew I had . . .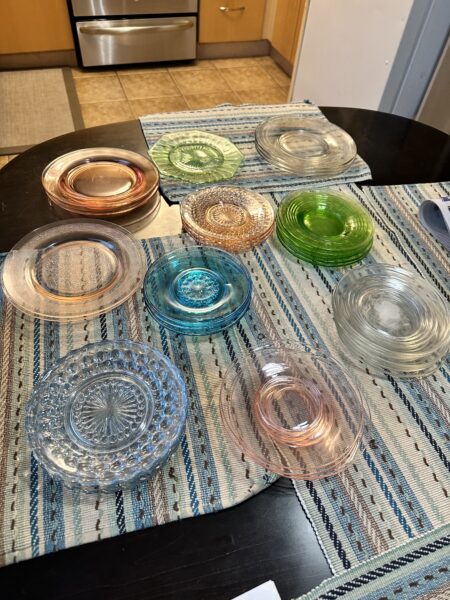 That is a lot of depression glass cake plates!
As this process unfolds I sorted though everything in the cupboard – keep, pack now for the move, donate, sell.
This is the pile of stuff for pack, donate, and sell. Well, and a cute cat slipping into the shot.
By Friday we had three boxes for the storage unit, 7 boxes to donate, and two boxes of stuff to sell.
Once I had sorted each cupboard i gave it a deep clean. During that process I discovered that the only thing capable of cutting through 20 years of greasy grime on top of the cupboards was Dawn Foamy soap. Happily I buy a bottle or three on each trip to the US so I had plenty with which to tackle this grim task.
Saturday morning we made two trips to the storage unit. We brought all of the books that will be making the move, Paul's collection of photo albums (don't ask), and the items from the kitchen that we want to keep but don't want cluttering up the kitchen right now.
The storage unit is getting full.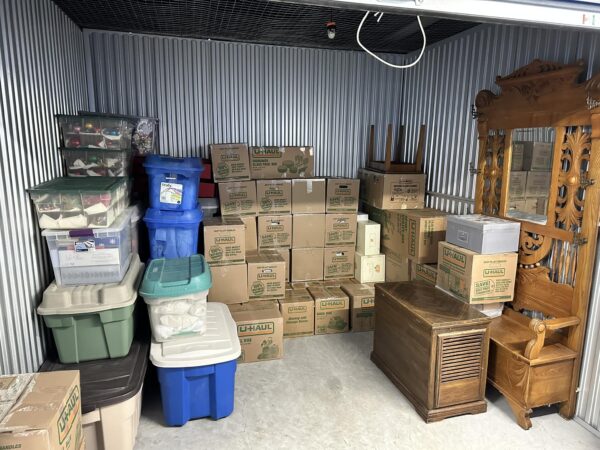 After all of this hard work we rewarded ourselves with our first meal out in a long while. Lunch at real burger in Waterdown. Now this was a tasty decision.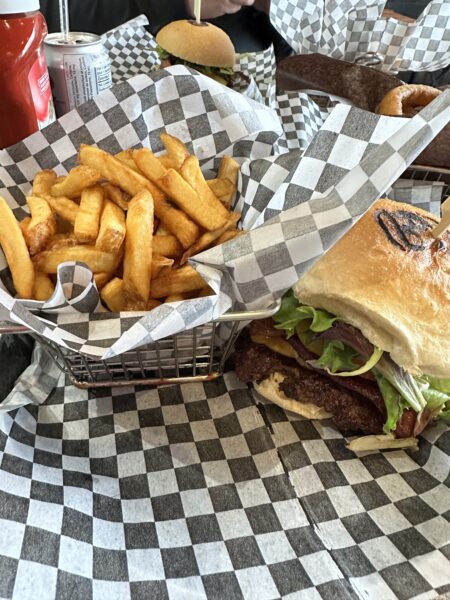 On the way home we popped into the hardware superstore and bought a new range hood for the kitchen and two light fixtures for the front bedrooms.
At this rate we might be ready for the tentative listing date.