It's a bit of hyperbole to say that any pasta dish is comfort food since pasta by its nature is a plate of comfort. However, this dish is comfort food. Yes. I did go there.
This pasta dish couldn't be easier and comes together as quickly as it takes to boil the pasta. It's also delicious. Peas and ham are a classic pairing in many global cuisines for a good reason. Add a little garlic, some Parmesan, pepper, and lemon zest, toss with the pasta and you're enjoying a delicious meal!
Funnily enough the day I made this for dinner I discovered when I opened Instagram later in the evening that famous blogger/cook/tour leader/author Elizabeth Minchilli had whipped a similar dish up for guests in her home in Rome.
Clearly this is a dish that is to be enjoyed!
Part of moving entails cleaning out the freezers. This is a tricky endeavour but we're plowing on. One of the things we had in the freezer was a big ham we picked up in the States. It was on sale. I LOVE American hams. I thought I'd serve it for Easter dinner (before I knew Easter would be spent in a hotel with the cats while prospective buyers toured the house).
I cooked the ham on Sunday which meant leftovers. This is one of my favourite ways to use up leftover ham.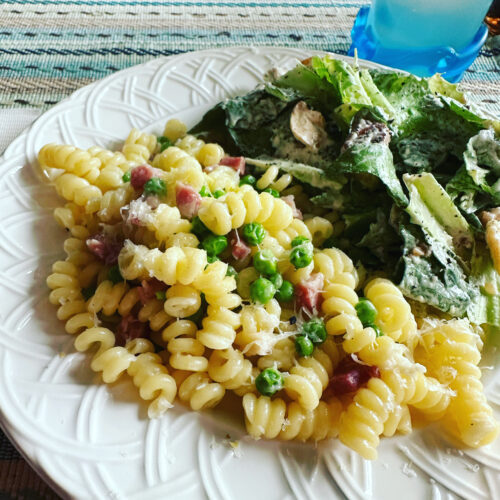 Pasta with Ham and Peas
Ingredients
3/4

pound

fusili pasta

salt

2

tablespoons

butter

3

cloves of garlic, minced

about 1 tablespoon

1 1/2

cup

diced ham

if your ham is glazed cut the outer layer off before dicing it for this recipe

1 1/2

cup

peas

1

cup

pasta water

reserve before you drain the pasta

1/2

cup

grated parmigiano reggiano cheese

3/4

teaspoon

pepper

1/2

teaspoon

lemon zest

salt, to taste

because ham is often salty I never add extra salt to this dish.
Instructions
Heat 4 quarts of water and 2 Tbsp salt in a large pot for the pasta. Once the water starts to boil, add the pasta and cook at a rolling boil, uncovered, until al dente, cooked through, but still a little firm to the bite (the low end of the cooking times given on the package). Drain, reserving 1 cup of the pasta cooking water.

While you are cooking the pasta, heat the butter in a medium skillet on medium heat until melted. Add the minced garlic and cook for 1 to 2 minutes. Stir in the ham and the frozen peas.

Stir in 1 cup of the pasta cooking water which will help thaw the peas. Stir in 1/2 cup of cream, Parmesan cheese, salt, pepper, and lemon zest.

When the pasta is ready, toss it with the sauce in a serving bowl and serve.