It's asparagus season here in Ontario. One of my favourite times of the year. Asparagus is usually the first locally grown vegetables to hit the market and it signals lots of goodness to come. We've had asparagus in our CSA box for two weeks now and it has been delicious!
One of my favourite things to do with the first of the asparagus is to make a risotto. A dish like this really allows the flavour of the asparagus to shine.
There is a lot of flexibility in this dish – you could add some lemon zest, shrimp, morel mushrooms, a bit of green garlic (also appearing in farmers markets alongside the asparagus), herbs such as thyme or mint. lots of options.
You can tell by the pic that we like our risotto on the 'loose' side. I guess this is a fancy word for soupy. LOL If you like your risotto to be more dry simply cut back on the broth.
This recipe was originally created by Elise at Simply Recipes.
Enjoy!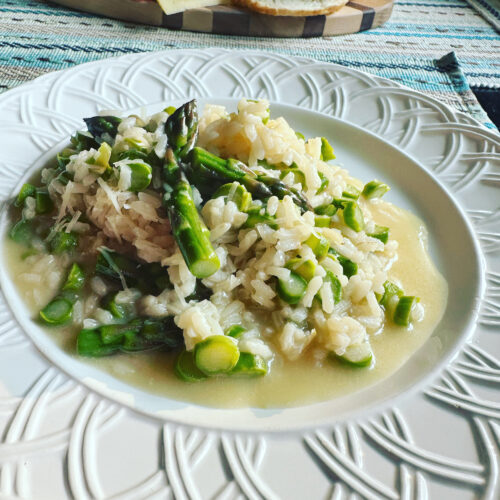 Asparagus Risotto
Ingredients
4

cups

chicken stock

2

tablespoons

unsalted butter, divided

1/2

cup

chopped shallots

1

cup

Arborio rice

1/4

cup

dry white wine

1/2

pound

asparagus, trimmed, tips cut off, stalks sliced into thin rounds

1/2

cup

freshly grated parmigiano cheese

salt and pepper to taste
Instructions
Heat the stock in a small saucepan until it comes to a low simmer.

In a separate 3 or 4 quart saucepan, heat 1 tablespoon butter on medium heat. Add the shallots and cook for a minute or 2, until translucent. Add the Arborio rice and cook for 2 minutes more, stirring until nicely coated.

Add the white wine. Slowly stir, allowing the rice to absorb the wine.

Once the wine is almost completely absorbed, add 1/2 cup of hot stock to the rice. Continue to stir until the liquid is almost completely absorbed, adding more stock in 1/2 cup increments. Stir often to prevent the rice from sticking to the bottom of the pan.

Continue cooking and stirring rice, adding a little bit of broth at a time, cooking and stirring until it is absorbed, until the rice is tender, but still firm to the bite, about 20 to 25 minutes.

With the last ladle of stock, add the asparagus. Stir and cook for a couple of minutes, until the risotto has absorbed the stock but is still loose and the asparagus are just cooked through.

Turn off the heat. Gently stir in the Parmesan cheese and the remaining 1 tablespoon butter. Add salt and pepper to taste. Serve immediately.
Notes
Note that the stock amount given is approximate. You may need a little more or less. If you end up needing more stock and you find yourself without, just use water.