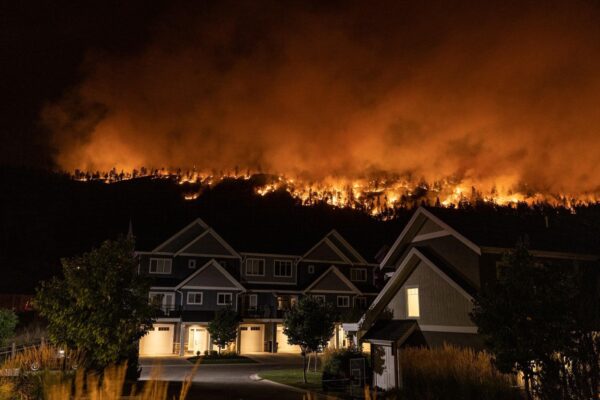 We were in Toronto last week for ETFO's 25th anniversary celebration. It was a wonderful opportunity to reconnect with former colleagues. When I retired during COVID I didn't really have an opportunity to say proper goodbyes. Last week I did.
Oddly one of the questions that everyone asked was 'are you impacted by the fires'.
I would respond with 'no, the fires are north and south of us'.
When I got to my room on Wednesday night the email was full of alerts stemming from a fire that broke out on Tuesday, August 15th. It's a bit twisted because that was the exact 20th anniversary of the worst fire in this region. So many people speak of the fire of 2003 and now I know why!
On Thursday the conditions worsened and the winds gusted to 70 km an hour. In the middle of the night the fire crossed the lake.Two fires started in Kelowna and people nearby had to be evacuated immediately. There are three stages to evacuation – no warning, alert (get ready to go), and evacuation order (get out NOW). Those folks in Kelowna had no time to gather things. In some cases people were forced to jump into the lake to get away from the flames (reminiscent of the fires on Maui).
It was so strange to be in Ontario while our new hometown in BC was at risk.
Our cat sitter sent us regular updates and assured us she had a plan to get our cats if the fire came close to us. A friend sent updates as well. We knew our house wasn't at immediate risk.
On Friday we were scheduled to fly home from Toronto. The plane left the city. Everyone was in a similar situation and anxious to get home. Mid flight the pilot came on with bad news – the Kelowna airport was closed to incoming and outgoing flights. We were diverted to Vancouver.
In Vancouver we had two options – wait and a plane would take us back to Toronto later in the day or rent a car and drive. We rented a car.
It was a 4.5 hour drive from Vancouver. Paul was following the driveBC website which lists all road closures to be sure we'd stay safe on our route home. There are quite a few fires burning in BC right now and we wanted to avoid those.
When we got home we unloaded the luggage (and the last two cases from our wine collection that a friend had been 'winesitting' for us since we moved) and visited the cats for a bit.
I was anxious to get the car dropped off at the airport and pick our car up because those winds that blew the fire across the lake were blowing it towards the airport.
There weren't many cars on the road. We could see houses up in the side of the mountains on fire. Flames soaring into the sky. The smoke was thick. Very apocalyptic.
After rescuing our car the next order of business was to get some supplies. If you are evacuated they suggest you have water, food, meds etc. to last a week. We also needed cat food and litter.
Back at the house we had a bit of a moment when the evacuation orders extended to about 10 houses from us. We ran around and got everything ready to go if we had to. That evacuation order was rescinded.
At this point we are safe and happy in our house. It is incredibly smoky out there. The sky glows red. We have no alerts or orders currently impacting us. We've been lucky.
Many businesses and homes have been lost. The damage will be immense and the city will take some time to recover.
There are hundreds of firefighters from close to 50 municipalities here fighting the fires. Yesterday the fire chief said that they were having trouble feeding them. Within five hours they had to ask people to stop bringing food because they couldn't handle it all. The support and how people have come together is amazing.
This morning we noticed birds we haven't seen before – likely escaping the flames. We've been told to expect lots of previously unseen animals in the neighbourhood. Not sure what I'll do if I look out the front door and there is a bear.
Rain is forecasted for the next few days. If it comes that will really help the firefighters. Fingers crossed.
Yesterday the government banned all non essential travel to the region and opened all hotel rooms to evacuees and first responders. That will really help the people who have nowhere to go although so many people here have RVs that they are living in after they have been evacuated.
Onward.