This is one of those long-cooking dishes that I love doing during the winter. It's not quite a stew and not quite a pasta. It is a plate of delicious comfort that will warm you on the coldest of nights.
This is one of many versions of a pebronata, a Corsican daube or stew, which is often made with veal or pork. It is a perfect example of the foods that resulted in from the intermingling of Arab and European cooking techniques. While the recipe only calls for a stick of cinnamon that single stick adds a subtle flavour to the profile that wont be missed.
This is not a weeknight sort of recipe (unless you are luckily enough to be retired . . . sorry, I wont rub it in too often). It takes about three hours from start to finish. You'll be rewarded for your efforts with cubes of tender meat in a hearty, flavourful sauce that is served over pasta.
If I were to list mt top ten recipes I think this one would feature high on the list. I think I've made it about two dozen times over the years for company and for us because we deserve good things as well. I hope that you enjoy it as much as we do.
Enjoy!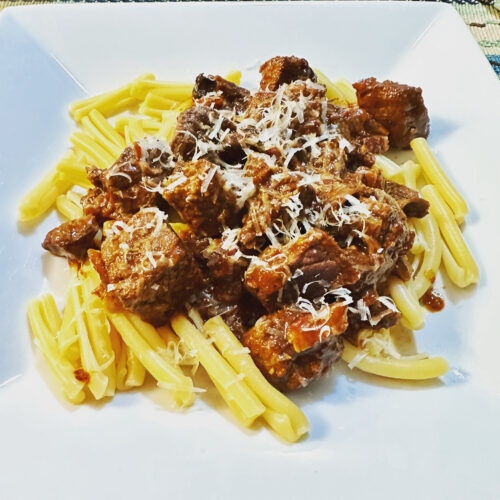 Corsican Beef Stew
Tender chunks of beef served in a rich sauce over pasta.
Ingredients
1

oz

dried porcini mushrooms

1

cup

boiling water

4

oz

bacon, diced

2

lb

stewing beef, cubed

freshly ground pepper

kosher salt

2

onions, roughly chopped

about two cups

6

cloves of garlic, minced

3

tbsp

red wine or balsamic vinegar

balsamic yields a more rich sauce

1

cup

beef stock

4

tbsp

tomato paste

I buy tomato paste in the tube which is perfect for recipes like this where you only need a small amount.

1

cinnamon stick

Buy this in a bulk food section or store for maximum freshness.

2

rosemary sprigs

1

bay leaf

1

lb

dried pasta

freshly grated parmigiano cheese
Instructions
Placed the dried mushrooms in a bowl. Pour the boiling water over the mushrooms. Let them sit for 30 minutes to re-hydrate. Be sure to strain the mushroom liquid before adding it to the stew – I run it through a clean disposable coffee filter placed inside of a strainer.

Fry the bacon in a frying pan until crisp. Remove from the pan with a slotted spoon. Place in a Dutch oven.

Add the olive oil to the bacon grease in the frying pan. Brown the beef on all sides in the hot oil. Season with salt and pepper. This will likely need to be done in two or three batches. Throwing the beef all in at once will boil it, not brown it. Remove with a slotted spoon and place in the Dutch oven.

Add the onion and garlic to the frying pan. Fry at medium heat until transparent and golden. Pour cooked onion and garlic over the meat in the Dutch oven.

Pour the vinegar and stock in the frying pan. Bring to a boil and reduce for 2 – 3 minutes. Scrape the bottom of the pan while reducing the liquid. pour over the meat and onion mixture.

Add the remaining ingredients except for pasta and cheese. Cover the pot and place in a oven heated to 325 degrees. Cook for two hours. Stirring every 30 minutes or so. NOTE: this cal also be done on the stove top. If you go this route simmer slowly on a low heat. You'll need to check on it more often so it doesn't stick and burn.

When the stew is cooked, cook the pasta. Drain.

Serve the stew on top of the pasta. Sprinkle with cheese.