In Asia this is a comfort food dish. This may seem odd to us with our different culinary traditions but trust me that you will indeed be comforted by this dish.
When you taste this dish you'll be impressed with the complexity of the flavours. This is odd given the sparsity of the ingredient list. Somehow each of these simple ingredients comes together and makes something wonderful.
Note on the soba noodles. The ones that I buy come in a small package with three serving-sized bundles. Each of these bundles is tied with a thin strip of paper. Be sure to take this paper off BEFORE you toss the noodles in the boiling water to cook. If you forget to do this they will cook in a hardened congealed mass – easy to grab with the chopsticks perhaps but a definite choking hazard to eat.
Enjoy!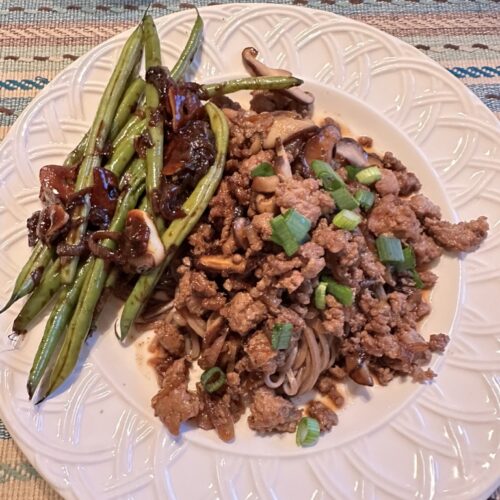 Soba Noodles with Minced Pork and Shiitake Mushrooms
Ingredients
2

tbsp

canola oil

1/2

pound

ground pork

10

shiitake mushrooms, stems discarded, caps thinly sliced

3

medium shallots, thinly sliced

3

tbsp

sake

4

tbsp

soy sauce

2

scallions

ends trimmed and thinly sliced on the diagonal

2

packages

soba noodles (about 1/2 a pound in total)
Instructions
Pour the oil into a large wok or skillet set over high heat. When hot, add the pork. Stir well, and cook until there is no more pink, about 3 to 5 minutes. Remove the pork with a slotted spoon and set aside.

Add the mushrooms and shallots. Stir well, and cook them until soft, about 3 to 5 minutes. Turn down heat if they look like they will burn.

Add the pork back to the wok. Pour in the sake, and dislodge any browned bits on the bottom with a wooden spoon. When the sake has evaporated add the soy sauce. Cook for 1 minute, then turn off the heat.

Meanwhile, cook the soba noodles according to the directions on the pack. Drain, but do not rinse.

Serve the pork mixture atop the noodles. Garnish with scallions.